Repair & Restorations
REPAIR & RESTORATIONS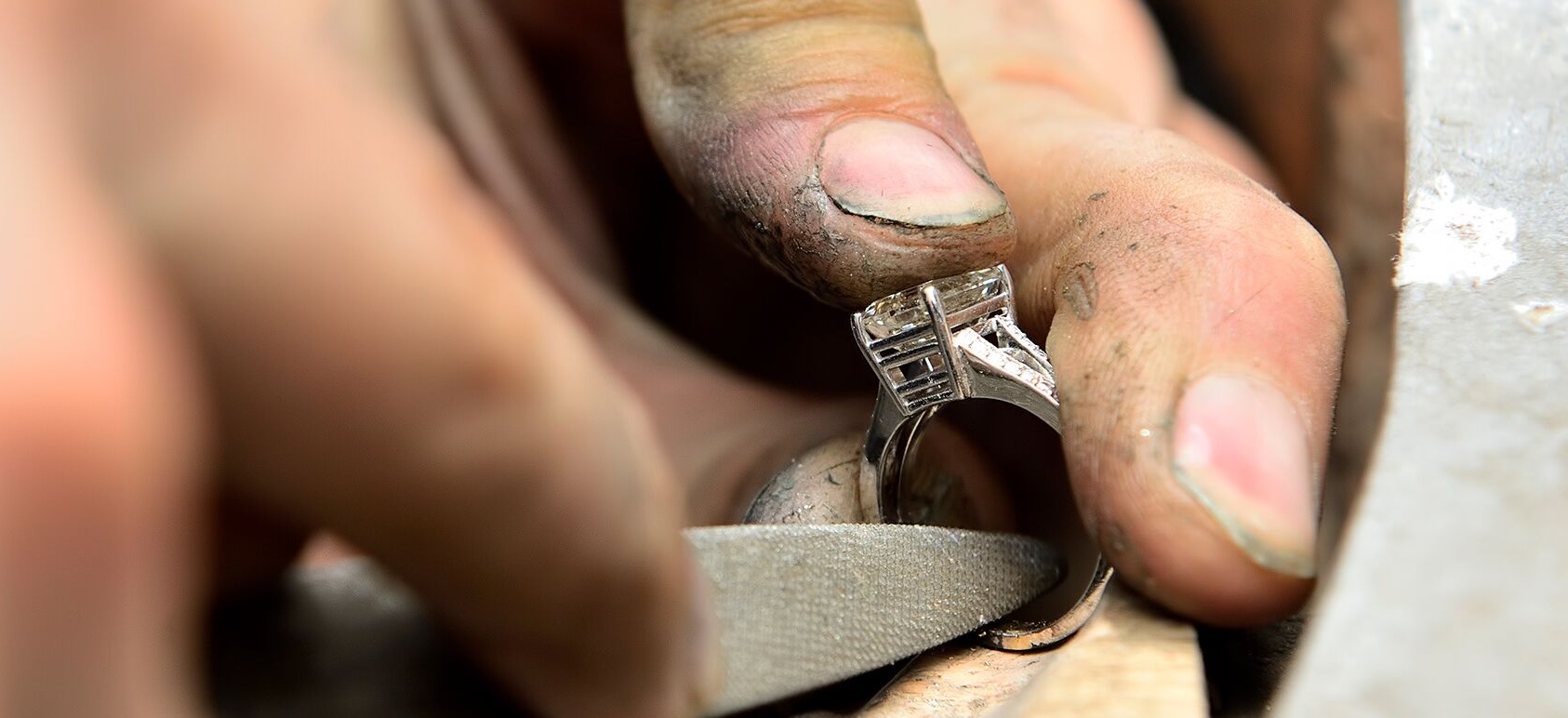 Repair Services
Does your ring need to be resized? Have a family heirloom that is broken or missing gems? Have you lost a stone from your ring or are the prongs worn down? Do you have a necklace that is broken? A watch that needs a new battery?
Jewelry can last a long time, but it needs care and repair every so often. From chain repair to fixing prongs and everything in between, Towne Square Jewelers has highly-skilled and talented bench jewelers that can repair nearly any piece.
Towne Square Jewelers does all work in-house
Many places send their repair work to other vendors, leading to communication issues, lengthy turnaround times and mistakes. All our repairs are done in-house and never leave our store. Our jewelers are dedicated to excellence and integrity and treat each piece with care and respect.
Our technology and craftsmanship speak for itself
Using the latest technology like laser welding, as well as good old-fashioned craftsmanship, we restore your keepsakes and give them life for generations to come. Our high-powered microscopes and laser welders mean unparalleled precision and quality.
These are just some of the repair work services we offer:
Ring sizing
Expert diamond setting
Soldering including laser welding
Stone tightening
Rebuild prongs and channels
Shank work
Replacing missing or chipped diamonds and colored stones
Finishing and polishing
Replace clasps on bracelets and necklaces
Chain repair
Watch batteries, watch link removal
Pearl stringing
---
Restoration Services
Our restoration services range from replacing a missing diamond on an antique ring to complete restoration of estate jewelry. We know heirloom and estate jewelry is often one's most sentimental piece. We're dedicated to preserving the legacy and sentimentality of jewelry passed down through generations. All work is done on premises, and your jewelry is photographed and insured while at Towne Square Jewelers.
These are some of the jewelry restoration services we offer:
Stone replacement
Rebuilding prongs, settings and supporting galleries
Rebuilding bent or crushed old jewelry
Polishing worn gems
Repairs in platinum, gold, silver, and costume jewelry
One of our clients brought in this cameo ring, passed down through many generations of men in his family. He wanted to eventually pass this ring down to his son, but it was badly broken. He trusted our expert jewelers to restore his ring as best as possible. We consulted with the client several times and kept him updated on the progress of our work. After hours of careful and meticulous restoration work at the jeweler's bench, we were able to bring this broken treasure back to life.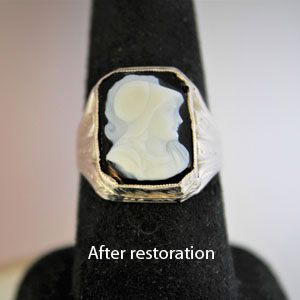 ---
Of the repair process, our client said:
"This past July, I brought Towne Square Jewelers a very old cameo mounted ring in desperate need of restoration. Against all odds, the Towne Square Jewelers Staff did a superb job in restoring my family heirloom. In sum, it looks brand new! For those with similar heirloom restoration needs, I would heartily recommend Towne Square Jewelers."
---
Whether it be a family heirloom, your wedding ring, or that piece of jewelry you love to wear every day, our expert staff is ready and willing to take on your jewelry restoration needs. Bring in your jewelry today, or give us a call at 217.348.8340 for more information!