Custom Design
CUSTOM DESIGN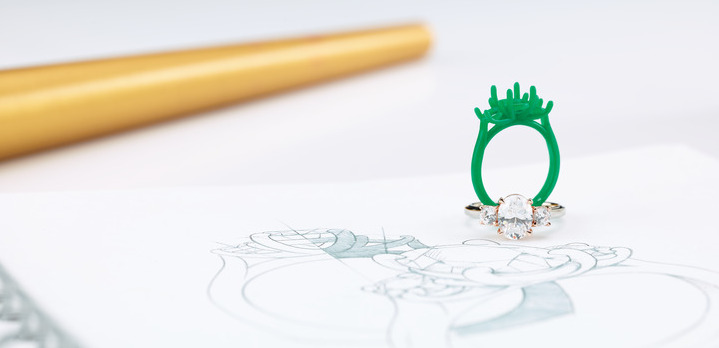 From Concept to Creation
At Towne Square Jewelers, custom designed jewelry is our specialty. We understand the sentimental value jewelry can have in a person's life. Whether you want a one of a kind engagement ring or to re-imagine unworn jewelry into a beautiful and fun new design. Terry Davis, owner, is a three-time winner of the Illinois Jewelers Association Design Contest.
Using the latest in CAD technology, we create designs in 3D which depict every detail as it will appear when your custom design reaches its final finished form, so there are no surprises. This approach also allows us to make changes along the way so that your finished piece will be exactly the way you imagined it.
Do you want to use parts of your mother's wedding ring into your own? Update your grandmother's ring? Dream of wearing a truly one-of-a-kind piece of jewelry? Our skilled designers at Towne Square Jewelers will take you through the custom jewelry process from concept to a completed piece you'll love to wear.
The Process
---
1. Design Consultation
The custom design process begins with a consultation with one of our talented designers where we'll take your ideas and vision to paper. You may have a general idea of what you want, but if not, you may find inspiration from pieces in our showcase We recommend creating an account which will let you start a new design project and save your favorites.
---
2. Sketches, Materials, & Estimate
| | |
| --- | --- |
| | We will sketch out designs based on your ideas. Once a design has been selected we'll determine the design attributes, gemstones, and metal you would like to use in the piece. At this point, we can provide you with an estimate. We can also provide options using different metals and gemstones to create a piece within your budget. |
---
3. CAD Design
| | | | |
| --- | --- | --- | --- |
| Once a sketch and materials are finalized, we use a computer assist design (CAD) program to build a 3D image of your ring. The CAD system has revolutionized the jewelry industry. The CAD images will show you realistic views of your design and how it will look when it is finished. Once the 3D model is approved the piece moves to wax model or hand fabrication. | | | |
---
4. Wax Model or Hand Fabrication
A wax model is created using stereolithography technology to print a full-size wax model of your design. This technology enables us to create a wax prototype that shows the exact detail and dimensions of your project.

Sometimes the custom design doesn't require a wax model and is fabricated by hand using old world techniques such as soldering and forging. Laser welding, a newer technology, may also be used.
---
5. Casting, gemstone setting, and finishing
After the wax model is created the piece is ready for casting. Once cast, our expert craftsmen sand, polish and meticulously set the gemstones. For diamond engagement rings, the center diamond is set last with the utmost care and precision. The jewelry is then brought to a final bright polish.
---
Call us 217-348-8340 or send us an email us to visit with us about your custom design project.